Layout Canvas
Bella Russo Bedding Set Giveaway
Jan 1 - Jan 31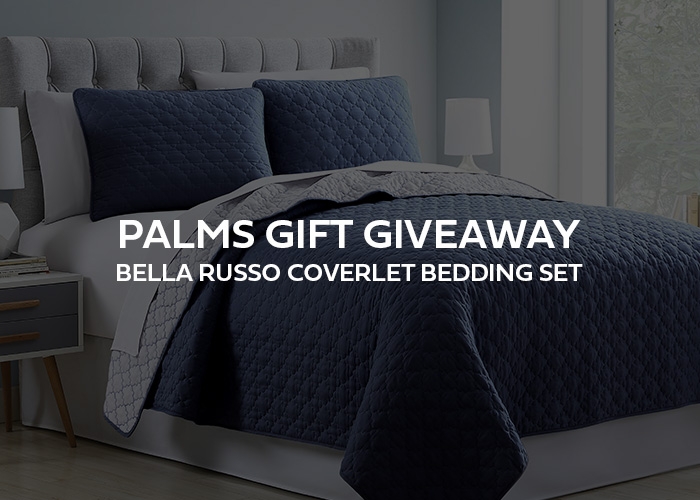 Mon - Wed | 12PM – 8PM
A new gift each week in January! 
Earn 1,000 Tier Points. Monday to Wednesday, 7AM – 8PM. 
Redeem Monday – Wednesday, 12PM – 8PM. 
Swipe at any Club Serrano Kiosk to redeem. Collect the whole set! 
Overview:
1.    Participation in the January Gift Giveaway promotion is limited to Club Serrano members.
2.    Promotion will take place weekly, Mondays-Wednesdays January 1 – January 31, 2024.
3.    To qualify for the Bella Russo Coverlet Bedding Set, participants must earn 1,000 Tier Points on slots or table games.
4.    Weekly earning period begins on Mondays at 7:00AM and ends on Wednesdays at 8:00PM.
5.    Weekly redemption takes place on Mondays, Tuesdays, and Wednesdays between 12:00PM - 8:00PM near/across from S.I.F. Gift Shop at the Fantasy Tower.
6.    To redeem, participants must swipe their players card at any Club Serrano Kiosk and take their receipt/voucher to the pickup location, for gift pickup.
7.    Redemption is limited to one (1) gift per Participant.
General Rules:
8.    Any prize won will be awarded to the primary registered Participant.
9.    Members must present Club Serrano Card and valid identification to Promotions Representative to redeem offer.
10.    Gifts are non-transferable and non-exchangeable.
11.    Members must have their Club Serrano Cards correctly inserted into a slot machine to be eligible or show their Club Serrano Card to the dealer at Table Games.
12.    When applicable, winners must fill out a prize log, a prize agreement, and a W-9, and physically provide a valid identification to claim a prize. The prize winners are solely responsible for all applicable federal, state and/or local taxes.
13.    Falsification of any information will result in ineligibility.
14.    By participating in the promotion, all participants agree to and acknowledge that they will abide by the official rules, regulations, and procedures of the promotion. Official rules will be posted at the Club Serrano Rewards Center.
15.    By participating in this promotion, you grant Palms Casino Resort permission to print, publish, televise, or otherwise utilize your name, city, state, photograph, or any likeness of you for promotional purposes.
16.    Management on duty will resolve any and all disputes. Persons who violate any rule, gain unfair advantage in participating in the contest, or obtain winner status using fraudulent means will be disqualified.
17.    Persons who have voluntarily or involuntarily been excluded from the property or who have requested self-limitation of casino privileges are not eligible to participate in the promotion.
18.    Employees of Palms Casino Resort and their respective affiliates, owners, subsidiaries, franchisees, and advertising or promotion agencies are not eligible, nor are members of these employees' families (defined as parents, children, siblings, spouse, and life partners).
19.    Must be 21 years of age or older to participate and must be a member of the Club Serrano program. Membership is free.

20.    Casino capacity is limited and participation into a promotion/event is not guaranteed if a member is unable to register/activate entries during the times stated in the official rules. No special circumstances will warrant the delaying of a promotion/event to be able to accommodate individuals or groups of individuals.
21.    Management reserves the right to cancel, change or modify the promotion without notice at any time.
22.    Palms Casino Resort endorses responsible gaming. If you or someone you know has a problem gaming responsibly, please call the 24-hour Problem Gaming Helpline at 800.522.4700.
THIS PROMOTION IS SUBJECT TO NRS §463.362