Slides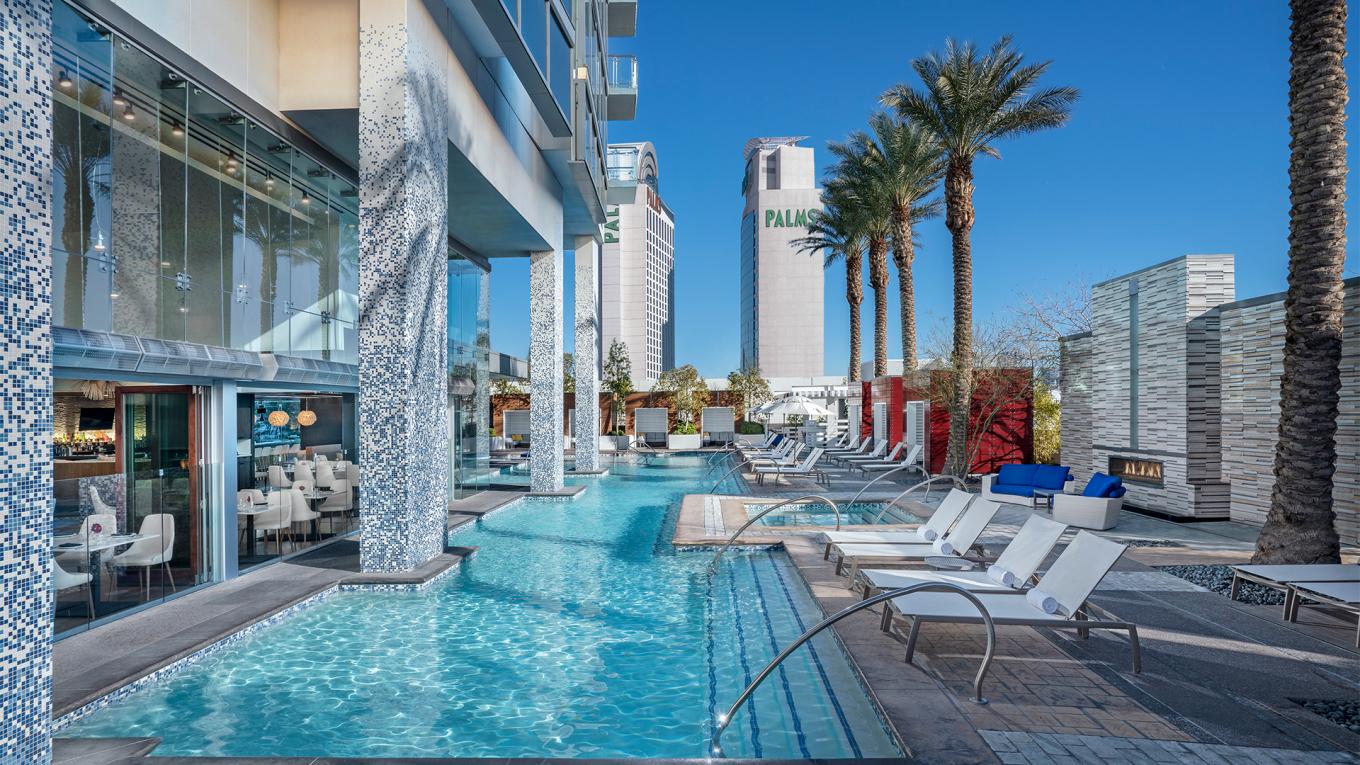 Laguna Pool at Palms Place
Discover your hidden oasis at the Laguna Pool, Palms Place. Enjoy the dynamic wrap-around pool, jacuzzi, and plush loungers — or opt for a private cabana for the ultimate luxury experience.

Be sure to grab a refreshing cocktail or a delectable dish from the globally-inspired menu at Laguna Pool House & Kitchen, curated by renowned chef Luke Palladino. Pitchers and one-of-a-kind bottle service are also available.

Laguna Pool has a laid-back vibe you'll find nowhere else. Come see why locals and visitors alike call ours one of the finest pools in Las Vegas.

Not staying with us at Palms? We offer day passes so you can enjoy the fun! 
HOURS OF OPERATION
Closed for the Season
HOTEL GUESTS
All Week
Free (All Ages)
LOCALS
Cabana rental required for entry
(Subject to availability)
ATTIRE
Beach Club
LOCATION
The Laguna Pool is located on the 6th floor at Palms Place.
Layout Canvas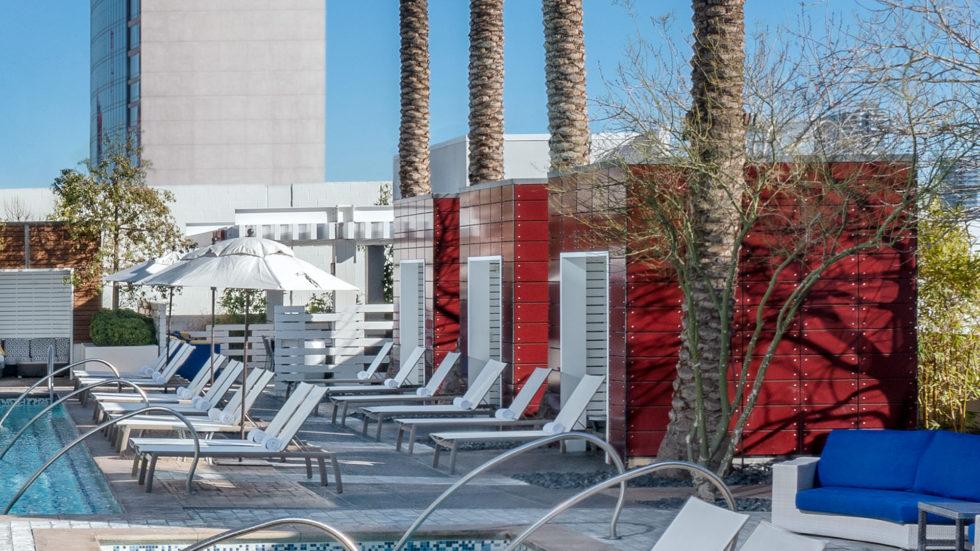 Dive into poolside luxury. Enhance your day life experience by reserving private cabanas at the Laguna Pool House. Our cabanas are luxurious, and spacious, perfect for up to 8 people. Each cabana comes with its own TV, so you can relax in complete comfort. Our servers will take care of all your needs, so you can just sit back and enjoy the view.
Laguna Pool House & Kitchen serves delicious, globally influenced food. Come sip refreshing tropical cocktails, pitchers, and experience our one of a kind bottle service
DRESS CODE
Proper fashionable beach club attire required. Jeans, pants, excessively torn or cut–off clothing, excessive baggy clothing, offensive prints on clothing, pasties, and see–through bathing suits are prohibited.
We support your right to adorn your body with art. However, management reserves the right to decline entry to, or remove after entry, any guest with excessive, offensive, or extreme tattoos or body modifications.
NO GLASS, OUTSIDE FOOD & BEVERAGE ALLOWED ON THE POOL DECK.
Exceptions include coffee in a disposable paper cup and empty water containers.
MARIJUANA PRODUCTS ARE PROHIBITED THROUGHOUT THE RESORT.
No smoking allowed on the pool deck. This includes cigarettes, cigars, cigarillos, vapes, and e-cigs are not permitted, subject to management discretion.
ALL PERSONS AND BAGS WILL BE SEARCHED
Weapons (any item that may be used to cause bodily harm), controlled substances, eye drops/nasal sprays, gum/mints/breath strips, vitamins/supplements, over–the–counter medications, prescription medication in excess of a daily dose (must have valid ID to verify ownership of prescription), GoPros, professional cameras or video equipment, any other wearable technology, laptops, selfie–sticks, speakers, colognes/perfumes, and party props are prohibited. Palms Management reserves the right to make the final decision on any restricted item to ensure the safety of all guests.
Guests who do not follow Palms Pool policy may be asked to leave the venue.
ZERO TOLERANCE POLICY
All personal items will be searched. Also, no lewd conduct or nudity allowed.
Guests who are noticeably intoxicated or under the influence of alcohol or a controlled substance will be denied entry and will not be eligible to receive a refund.
This is not an all-inclusive list and Management reserves all rights. Changes can and will be made on a case-by-case basis.
Thank you for your cooperation as we ensure this is a fun and safe area for all of our guests.
PLEASE BE ADVISED
Water cannons are in use within this area. They will sporadically release high pressured water across the pool deck. They also cause loud noises and exposed areas will get wet. Items left out may get wet. We are not responsible for damaged personal belongings. For more information, please ask a pool attendant.
NOTICE OF FILMING
This area may be occasionally used to photograph, and record video and film footage in connection with the promotional and publicity campaigns of Palms Casino Resort. By your presence in this area, you acknowledge that you have been informed that you may be photographed or recorded.
Furthermore, by your presence here, you grant permission for your likeness to be included therein without compensation, credit, or other consideration. Additionally, live streaming of events on various social media platforms may occur.