SMGHA & Palms Casino Resort Award More Than $1.3 Million in Grants to 52 Local Non-profits in Las Vegas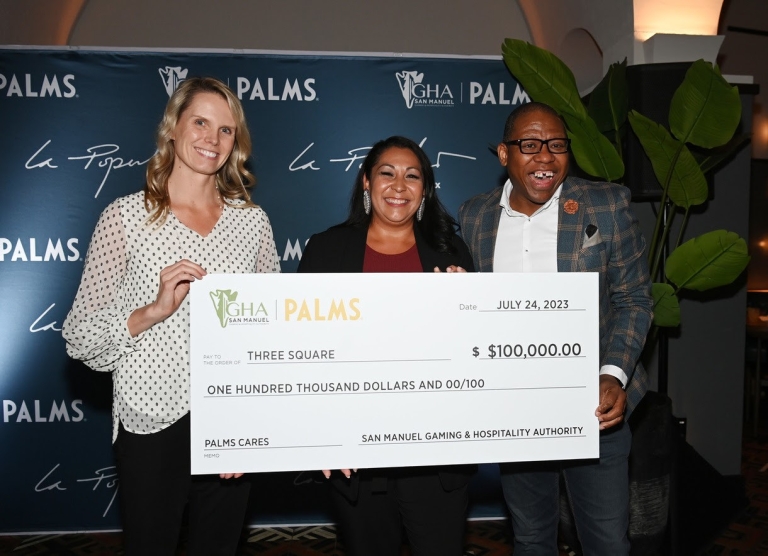 SMGHA Chairperson Latisha Prieto presents a check to Three Square representatives Kate Gaines and Will Edwards at the recent opening of La Popular at Palms Casino Resort. Three Square is among more than 50 local organizations that have been awarded grants.
For Palms high-res images, b-roll video and press kit information 
LAS VEGAS (Sept. 21, 2023) – With a steadfast and ongoing dedication to making a positive impact in the Las Vegas community through philanthropy, the San Manuel Gaming and Hospitality Authority (SMGHA) and Palms Casino Resort for the second consecutive year, have announced the awarding of over $1.3 million in grants to support 52 local charities across Southern Nevada.
Revealed at the recent Philanthropy Leaders Summit in Las Vegas, representatives of the SMGHA and Palms Casino Resort's Palms Cares community outreach program delighted several organizations including Henderson Firefighters Benevolent Society, Critical Care Comics, Collaboration Center Foundation, Indigenous AF, United Way of Southern Nevada, and Nevada Partnership for Homeless Youth with the announcement of grants ranging from $5,000-$100,000.
Underscoring an ongoing mission and commitment to providing a "hand up" to underserved populations in the communities that they serve, grants were awarded to nonprofits that reflect the pillars that are most meaningful to the SMGHA including education, empowering lives, reinforcing healthy and resilient communities, and preserving cultural traditions.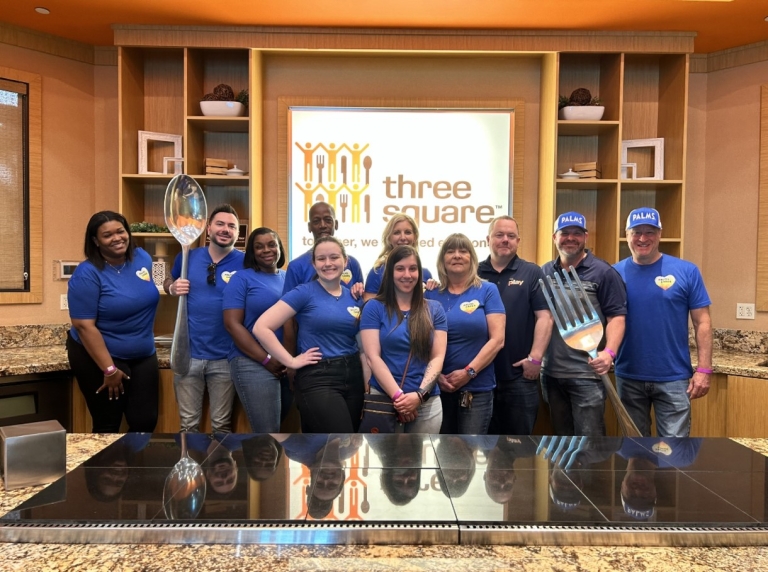 Local non-profit receives grant
The grants awarded will be used in a variety of impactful and meaningful ways including establishing mental health services for Henderson firefighters, providing costumed superheroes and toys and comics for 300 children per month who are residing at all seven pediatric care facilities in Las Vegas, introducing therapy for patients with disabilities, increasing visibility around national Native American news coverage and cultural programming and assisting with the purchase of food and transportation passes for 400 homeless youth ages 12‐20 in Southern Nevada.
Additionally, with these grants, the Springs Preserve Foundation will be able to offer cultural ethnobotany education and provide an educational cultural space for up to 175,000 visitors from tribal communities in Nevada. The Clark County Public Education Foundation will launch a pilot program that seeks to help eliminate barriers preventing students from attending school through family engagement and Southern Nevada Public Television will increase visibility around national Native American news coverage and cultural programming. 
"We are dedicated to upholding our legacy while striving to become a leading force in our community for fostering positive social change," said Latisha Prieto, Chairperson of the San Manuel Gaming and Hospitality Authority. "We refer to this ethos as 'The Spirit of Yawa' – the action of following one's convictions. It's what motivates us to support the Las Vegas community and the local organizations committed to shaping a brighter future."
The 2023 grants extend the philanthropic values of the San Manuel Band of Mission Indians (SMBMI), which began in Las Vegas prior to the purchase of Palms. Since January 2020, the Tribe has awarded $12 million to educational institutions and charities in Las Vegas, including $9 million to UNLV for the Boyd School of Law and the William F. Harrah College of Hospitality to fund education programs in Tribal law and Tribal gaming operations.
"There are numerous exceptional organizations in Southern Nevada that are working tirelessly to transform lives," said Cynthia Kiser Murphey, General Manager of Palms. "We are so proud and honored to help support them and continue to bolster their remarkable work. This second consecutive year of grants reinforces our commitment to uplifting the community and our neighbors."
Complete list of 2023 Grant Recipients:
•    Live Life By Music Inc
•    Board Of Regents, NSHE, obo University of Nevada, Reno
•    Las Vegas-Clark County Library District
•    Jobs for Nevada's Graduates, Inc.
•    Donna Street Community Center
•    Clark County Public Education Foundation Inc
•    Nevada School of the Arts
•    After-School All-Stars Las Vegas
•    Spread the Word Nevada
•    Southern Nevada Public Television
•    DISCOVERY Children's Museum
•    IndigenousAF
•    Washiw Zulshish Goom Tahn Nu
•    Springs Preserve Foundation 
•    Arriba Las Vegas Worker Center
•    Stewart Indian School Preservation Alliance - State of Nevada Indian Commission
•    The Animal Foundation
•    Puentes
•    Southern Nevada Senior Law Program
•    Shine A Light Foundation
•    Babys Bounty
•    Catholic Charities of Southern Nevada
•    Nevada Partnership for Homeless Youth
•    United Way of Southern Nevada
•    Habitat for Humanity Las Vegas
•    Nevada News Bureau
•    HopeLink of Southern Nevada
•    Asian Community Development Council
•    HELP Of Southern Nevada
•    Vegas Stronger
•    Three Square
•    Adams Place
•    American Red Cross - Southern Nevada 
•    Chef For Kids Inc
•    Collaboration Center Foundation
•    Critical Care Comics
•    Equality California Institute
•    Green Chips
•    Henderson Firefighters Benevolent Association 
•    Marty Hennessy Inspiring Children Foundation
•    Nevada Diabetes Association for Children and Adults Inc
•    Nevada Health Centers, Inc.
•    Outside Las Vegas Foundation
•    St. Rose Dominican Health Foundation
•    Susan G Komen Breast Cancer Foundation
•    The National Hemophilia Foundation
•    Tyler Robinson Foundation Inc
•    U.S. VETS
•    USO Nevada
•    Safe Nest Temporary Assistance for Domestic Crisis 
•    Volunteers in Medicine Southern Nevada Inc. 
•    Community Counseling Center of Southern Nevada