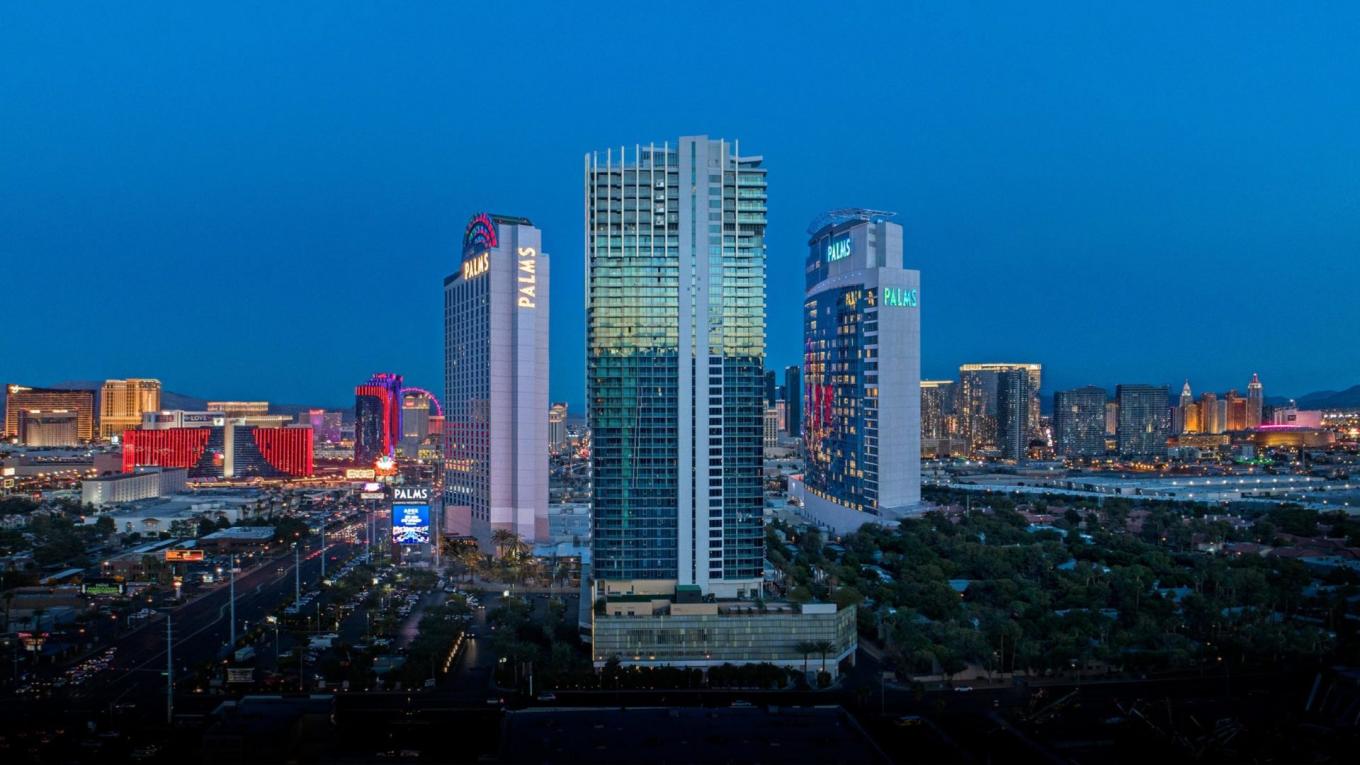 Privacy Policy
Last updated January 3, 2022
This Privacy Policy ("Policy") describes the data practices of Yaamava' Resort and Casino at San Manuel ("Yaamava'"), which is owned and operated by the San Manuel Entertainment Authority, an unincorporated instrumentality of the San Manuel Band of Mission Indians, a federally-recognized sovereign tribe, Palms Casino Resort and the Palms Place Condominiums ( "Palms") ), entities owned and operated by the San Manuel Gaming and Hospitality Authority, an unincorporated instrumentality of the San Manuel Band of Mission Indians. Yaamava' and Palms, collectively, are referred to as "we" "us" and/or "our."
This Privacy Policy explains how we process your personal information when you interact with us online or offline (collectively, the "Services").
If you are in the United Kingdom (UK), or in any country in the European Economic Area (EEA) (which includes member states of the EU), please note that additional terms at the end of this Policy may apply to our handling of your personal information.
TYPE OF PERSONAL INFORMATION WE COLLECT
The types of personal information we may collect include:
Name
Residential street address or postal address
Email address
Social security number or national identification number
Date of birth
Employment History
Driver's license number
Geolocation
Government issued identification number
Phone number
Financial information such as credit card number, debit card number, bank account or other financial institution account number
Club Serrano card number from Yaamava' members
Information we must collect to comply with applicable law.
Details about devices used to access our websites or mobile applications such as IP address, browser information, device information, cookies, mobile advertising IDs, HTML5 localStorage and similar technologies. This is discussed further below.

Video surveillance information and threat detection systems to monitor gaming areas and other public and sensitive areas within and around our locations for safety, security, fraud prevention, and other purposes. Some surveillance systems may incorporate video surveillance footage, including images and audio via security cameras, facial recognition technologies, and magnetic sensor technology, all of which may be used for additional screening. Surveillance camera output is monitored by our employees and contractors and may be viewed by or shared with law enforcement and regulatory authorities.
HOW WE COLLECT INFORMATION
We may collect personal information from various sources, including:
When you voluntarily provide it to us
When you sign up and create an account
When you register and enroll for a Club Serrano card
When you sign up to receive emails, special promotions, offers, event information, the Yaamava' Resort & Casino Newsletter, the Palms Place Condominium Newsletter, the Palms Casino & Resort Newsletter, or other communications (e.g., social media sites)
When you play games on our websites or mobile apps
From third parties for our business purposes
When you make purchases
When you communicate with us
When you submit a request for a Win/Loss Form
When you submit a request for an IRS Form W-2G or Form 1099
When you consent to receive text messages, we collect your mobile telephone number, in order to send you the text messages; you will also have the option to stop receiving text messages
When you contact us offline or submit information to us offline
When you apply for a job with us
When you make a reservation
When you use our Kiosks
When you provide it through our websites
When you provide it through our mobile apps
When you subscribe to the newsletter
When you respond to a survey
Directly from you, at your direction or with your consent
In connection with your use of the Services (e.g., via our websites and devices you connect to the Services)
From our service providers, partners, and third parties, such as those discussed in the "How We Use Your Information" and "How We Share Your Information" sections below
From other platforms that you may use to engage with us
Automatically, from devices that you use to connect to our website and app

In public areas, through our use of safety and security technologies that we may use when you visit our locations
From time to time, we may use or augment the personal information we have about you with information obtained from other sources, such as public databases, social media platforms, and other third parties, including to perform obligations required under applicable law. We may also use such third-party information to confirm contact information or to better understand your interests by associating demographic information with the information you have provided.
WHAT HAPPENS IF YOU DO NOT PROVIDE YOUR PERSONAL INFORMATION TO US?
If you do not provide personal information that we request or require in connection with our Services or our business functions and activities, we may not be able to provide our Services to you or be able to respond to an inquiry or a complaint or be able to assist you in other ways. For example, we also may not be able to provide you with information about products and services that you may want.
HOW WE USE YOUR INFORMATION
We may use the information we collect to operate our Services. We also collect, hold, use and disclose the information to:
To personalize user experience;
To facilitate purchases and transactions;
To facilitate reservations;
To verify your eligibility for a Club Serrano card at Yaamava';
To improve our Sites;
To communicate with you about our Services;
To conduct or administer surveys and other market research for our business purposes;
To enable our targeted advertising to you through the use of cookies and similar technologies, as discussed below in our "Cookies and Similar Technologies" section;
To respond to requests, questions and comments;
To provide you with our newsletters, articles, announcements, invitations, and other information about Services;
To share your personal information with third parties, as discussed below in our "How We Share Your Information" section;
Based on your consent to receive e-mails, messages, notifications, or phone calls, we will send you communications about our Services, including providing you personalized advertisements that identify products, services, games, or events that we think may be of interest to you based on your purchasing and gaming habits when you visit our websites;
To enable you to connect with third parties or use third party sharing functionality such as third party social media widgets/tools/buttons;
To validate your ability to access or use our Services (.g., validate that that you are over the age of 21 to access Palms Casino & Resort website and mobile applications)
To comply with legal requirements, judicial process, and our policies (e,g., to verify users' identity in connection with access or correction requests)
If you apply for a job, we may also use the information to a assess qualifications and personal experience to determine if it meets specific job requirements; and help us inform candidates of future openings

To protect the safety and security of our guests, personnel, locations, and the general public.
We may also aggregate or deidentify any personal information that we collect in connection with our Services, such that the information is no longer personally identifiable or attributable to you. We may use such aggregated or de-identified information for our own legitimate business purposes without restriction.
HOW WE SHARE YOUR INFORMATION
We may share the information we collect:
Within our family of companies, our branded subsidiaries, joint ventures, and other companies in the United States under our common control (collectively, "Affiliates")
With service providers that perform services for us or on our behalf, including, but not limited to, for the purposes of operating our website and apps, assisting us to perform business functions and operations, and for fulfilling requests by you. For example, service providers include web hosting providers, app hosting providers, IT systems administrators, mailing houses, couriers, payment processors, data entry service providers, electronic network administrators, and professional advisors such as accountants, solicitors, business advisors and consultants
With third parties for our marketing purposes
With your consent and at your direction
When you voluntarily provide content for the purpose of it being shared with other users
To verify your eligibility for a credit card or other services; and

To protect payment transactions against fraud or identify theft
We may also disclose personal information in order to assist with or otherwise enable our compliance with a legal or regulatory obligation, protect and defend our rights or property, and protect the safety of our users or the public.
We reserve the right to transfer the information we maintain in the event we sell or transfer all or a portion of our business or assets. If we engage in such a sale or transfer, we will make reasonable efforts to direct the recipient to use your personal information in a manner that is consistent with this Privacy Policy. After such a sale or transfer, you may contact the recipient with any inquiries concerning the recipient's privacy practices.
"DO-NOT-SELL" STATUS
We do not sell your personal information in exchange for monetary consideration.
MARKETING
You may unsubscribe from receiving marketing or other commercial emails from us by following the instructions included in the email or text message (e.g., clicking this unsubscribe link). We will work to comply with your request as soon as we can.
However, even if you opt out of receiving such communications, we retain the right to send you non-marketing communications (such as information about changes to our Privacy Policy or Terms of Use).
COOKIES AND SIMILAR TECHNOLOGIES
We, our service providers, and our business partners may also collect certain information about the use of our websites and apps by automated means, such as cookies, web beacons, HTML5 localStorage, and other technologies. We may also collect information about online activities over time and across third-party websites.
Cookie List
A cookie is a small piece of data (text file) that a website – when visited by a user – asks your browser to store on your device in order to remember information about you, such as your language preference or login information. Those cookies are set by us and called first-party cookies. We also use third-party cookies – which are cookies from a domain different than the domain of the website you are visiting – for our advertising and marketing efforts. More specifically, we use cookies and other tracking technologies for the following purposes:
Strictly Necessary Cookies
These cookies are necessary for the website to function and cannot be switched off in our systems. They are usually only set in response to actions made by you which amount to a request for services, such as setting your privacy preferences, logging in or filling in forms. You can set your browser to block or alert you about these cookies, but some parts of the site will not then work. These cookies do not store any personally identifiable information.
Targeting Cookies
These cookies may be set through our site by our advertising partners. They may be used by those companies to build a profile of your interests and show you relevant adverts on other sites. They do not store directly personal information, but are based on uniquely identifying your browser and internet device. If you do not allow these cookies, you will experience less targeted advertising.
Functional Cookies
These cookies enable the website to provide enhanced functionality and personalisation. They may be set by us or by third party providers whose services we have added to our pages. If you do not allow these cookies then some or all of these services may not function properly.
Social Media Cookies
These cookies are set by a range of social media services that we have added to the site to enable you to share our content with your friends and networks. They are capable of tracking your browser across other sites and building up a profile of your interests. This may impact the content and messages you see on other websites you visit. If you do not allow these cookies you may not be able to use or see these sharing tools.
Performance Cookies
These cookies allow us to count visits and traffic sources so we can measure and improve the performance of our site. They help us to know which pages are the most and least popular and see how visitors move around the site. All information these cookies collect is aggregated and therefore anonymous. If you do not allow these cookies we will not know when you have visited our site, and will not be able to monitor its performance.
The information that may be collected by automated means includes:
URLs that refer users to our website
Search terms used to reach our website
Details about the devices that are used to access our website (such as IP address, browser type, operating system information, geolocation, and mobile device information)

Details about users' interaction with our website (such as the date, time, frequency, and length of visits, and specific pages accessed during the visits)
Web browsers may offer users of our website the ability to disable receiving certain types of cookies; however, if cookies are disabled, some features or functionality of our website may not function correctly. To support and enhance our Services, we may serve advertisements through our Services. These advertisements are sometimes targeted and served to particular users and may come from third party companies called "ad networks." Ad networks include third party ad servers, ad agencies, ad technology vendors, and research firms. We are not responsible for the privacy practices of these ad networks and other parties. Advertisements served through the Services may be targeted to users who fit a certain general profile category, which may be inferred from information you provide to us, based on your Services usage patterns, or based on your online activities. We do not provide personal information to any ad networks for use other than in connection with our Services.
You can make decisions about your privacy and the ads you receive. You can control whether companies serve you on-line behavioral advertising by visiting the Digital Advertising Alliance website and using its opt-out: https://www.aboutads.info/choices/. The DAA opt-out requires that cookies not be blocked in your browser. To learn more about ad networks and to adjust your preferences you may also visit the Network Advertising Initiative: https://www.networkadvertising.org/understanding-online-advertising.
Because there is not yet a consensus on how companies should respond to web browser-based do-not-track ("DNT") mechanisms, we do not respond to web browser-based DNT signals at this time.
Please note that not all tracking will stop even if you delete cookies.
LINKS TO OTHER WEBSITES AND THIRD PARTY CONTENT
We may provide links to other websites, services, and applications that are not operated or controlled by us (the "Third Party Services"). This Privacy Policy does not apply to the Third Party Services. While we attempt to facilitate access only to those Third Party Services that share our respect for your privacy, we cannot take responsibility for the content, privacy policies, or practices of those Third Party Services. We encourage you to review and understand the privacy practices of any Third Party Services before providing any information to or through them. Your interactions with these features are governed by the Privacy Policy of the Third Party Service that provides the feature.
COLLECTION, STORAGE, AND USE IN THE UNITED STATES
Our website and mobile app services are operated from within the United States, and by submitting your Personal Information to us, either through our websites, mobile apps, or by other means, you consent to the transfer, collection, usage, storage, and processing of your Personal Information in the United States as outlined in this Policy.
Please note that your Personal Information may be used by us in the country where it was collected, as well as in the United States, where laws regarding the use of Personal Information may be less strict than the laws in your country.
HOW WE PROTECT INFORMATION
We maintain administrative, technical and physical safeguards designed to protect personal information we maintain against accidental, unlawful or unauthorized destruction, loss, alteration, access, disclosure or use.
CONTENT SUBMITTED BY YOU
Some features of the Services allow you to post content on our website, app or social media pages, such as photos. Content that you provide may be shared publicly or with other users or third parties.
DATA RETENTION
We retain personal information for as long as is necessary for the processing purpose(s) for which the data was collected, and any other permissible, related purpose or where we are legally required to retain the personal information for a minimum period. When we no longer need the personal information we collect, we either anonymize the information or securely destroy the information.
PERSONS UNDER AGES 21
You must be twenty-one (21) years or older to access our websites and mobile apps. If you are under 21, you are not permitted to access our websites or mobile apps for any reason. We do not knowingly collect or allow the collection of personal information from persons under 21.
If you believe we have inadvertently collected information about a person under 21, please contact us, and we will attempt to delete the information: 674 E. Brier Drive, San Bernardino, California 92408, Attn: Vice President, Enterprise Legal Compliance or via email: Click here.
CHANGES TO OUR PRIVACY POLICY
We may update our Privacy Policy periodically. If we do make changes, we will post those changes on this page and indicate at the top of this page the date this Privacy Policy was last revised. Any changes will be effective only after the effective date of the change.
YOUR PRIVACY RIGHTS
You may have certain rights and choices regarding our processing of your Personal Information. Depending on your jurisdiction, applicable law may entitle you to additional consumer rights, including the right (with certain limitations and exceptions) to:
Right to Know and Access Information: You may access information we maintain about you using the methods provided below. If we grant your request, we will provide you with a copy of the personal information we maintain about you in the ordinary course of business. This may include what personal information we collect, use, or disclose about you. We may not fulfill some or all of your request to access as permitted by applicable law.
Deletion of Information: You may request that we delete your personal information. Depending on the scope of your request, we may refrain from granting your request, as permitted by applicable law. For example, we may be legally required to retain your information in our business records. You may submit a deletion request using the methods provided below.

Opt-out of "Sale" and Certain Sharing Practices: You have a right to opt-out of certain data sharing practices with third parties who do not act as our service providers. This is limited to information we "sell" to these third parties. "Sell" in this case does not mean providing data in exchange for money—we don't do that. "Sell" instead means the disclosure of data, including technical device data that doesn't identify you directly, when a third party might use that data for its own purposes, such as for personalized advertising. In order for you or your authorized agent to exercise this right, please visit our "Do Not Sell My Personal Information" page.
If you opt to exercise your privacy rights, we are required to verify your identity in order to prevent unauthorized access of your data. This may require us to ask you certain questions to confirm your identity or require you to provide state-issued identification. Requests to exercise these rights may be granted in whole, in part, or not at all, depending on the scope and nature of the request and applicable law. Where required by applicable law, we will notify you if we reject your request and notify you of the reasons we are unable to honor your request.
No Opt-In for Minors: Minors are not permitted to use our Services.
Non-Discrimination: We will not discriminate against you, in terms of price or Services that we offer, if you submit one of the requests listed above.
Authorized Agent:
You may use an authorized agent on your behalf to exercise a privacy right discussed above. If you are an authorized agent acting on behalf of a consumer to communicate with us or to exercise a privacy right discussed above, you must be able to demonstrate that you have the requisite authorization to act on behalf of the resident and have sufficient access to their laptop, desktop, or mobile device to exercise these rights digitally. If you are an authorized agent trying to exercise rights on behalf of a Yaamava' or Palms user, please contact us at the contact information below with supporting verification information, which includes, at a minimum, a valid Power of Attorney in the state in which you reside, proof that you have access to the consumer's interface, and proof of your own identify.
To Exercise Rights (other than Opt Out of Sale).
To exercise the rights described above, please go here or contact us using the information below. Should you have any questions or concerns regarding your privacy rights or this Privacy Policy, you may contact us using the contact information below.
California Shine the Light:
Under California Civil Code sections 1798.83-1798.84, California residents are entitled to ask us for a notice identifying the categories of personal customer data which we share with our affiliates and/or third parties for marketing purposes, and providing contact information for such affiliates and/or third parties. If you are a California resident and would like information identifying the categories of personal information which we share with our affiliates and/or third parties for marketing purposes, and the contact information for such affiliates and/or third parties, please submit a written request to us using the contact details below.
Contact Us
If you have any questions, requests or complaints regarding this Privacy Policy or about how we process your personal information, please contact us using the contact details below.
Mailing Address:
Palms Casino & Resort
4321 W. Flamingo Rd.
Las Vegas, NV 89103
Phone: 866.752.2236
Email: Click here
IF YOU ARE IN THE EUROPEAN ECONOMIC AREA OR UNITED KINGDOM
If you are in the EEA (which includes the countries of the European Union) or UK, then these terms may apply in addition to the terms above.
LEGAL BASIS FOR PROCESSING YOUR PERSONAL INFORMATION
Under applicable law of the EEA and UK, we require a legal basis in order to processing your personal information. We will rely on one or more of the following:
Performance of a contract – we may need to collect and use your personal information to enter into a contract with you or to perform our obligations under a contract with you.
Legitimate interest – we may use your personal information for our legitimate interests or those of another party. Examples of our legitimate interests include facilitating and arranging your booking/reservation with us, handling complaints about our services, or responding to queries and requests.
Compliance with law or regulation – we may use your personal information as necessary to comply with applicable law/regulation.

Consent – we may (but usually do not) need your consent to use your personal information. An example of is where you have given us consent to market to you.
TRANSFERS OUTSIDE THE EEA OR UK
Your personal information may be transferred to entities located outside the EEA or UK, such as to us in the United States, for the purposes described in this Privacy Policy. This includes countries where data privacy laws may not be equivalent to, or as protective as, the laws in your home country. In these cases, we will ensure it is protected and transferred in a manner consistent with applicable law.
This can be done in a number of different ways, for instance:
The recipient may have signed a contract based on "standard contractual clauses" approved by the European Commission, requiring the protection of your personal information.
The country to which the personal information is sent may be approved by the European Commission.

In other circumstances, applicable law may permit the transfer of your personal information outside the UK or the EEA, for example because it is necessary for the performance of a contract with you or to take steps to enter a contract with you.
You can obtain more details of the protection given to your personal information when it is transferred outside the UK or the EEA (including a sample copy of standard contractual clauses) by contacting us using the details set out above.
YOUR RIGHTS
Where our handling of your personal information is covered by UK/EEA data protection law, you have number of rights:
Requesting information regarding the processing of your personal information and access to the personal information which we hold about you.
Requesting that we erase your personal information in certain circumstances.
Requesting that we correct your personal information if it is inaccurate or incomplete.
Objecting to, and requesting that we restrict, our processing of your personal information in certain circumstances.
Withdrawing your consent, although this will not affect the lawfulness of the processing before the withdrawal.
In some circumstances, receiving some personal information in a structured, commonly used and machine-readable format and/or requesting that we transmit that information to a third party where this is technically feasible. Please note that this right only applies to personal information which you have provided to us.
Please note that there may be circumstances where we are legally entitled to refuse a request.
You may also lodge a complaint with the data protection supervisory authority in your country of residence.